On my birthday morning I was awoken with breakfast in bed, to get some energy, because my husband was taking me out for a walk… somewhere… He wouldn't say!
Side note:
Being the luckiest girl in the world, for my birthday, I got a brand new beautiful camera, which obviously travels with me almost everywhere now, allowing me to create better quality content. Yay! (stay tuned)
Anyhow, we drove out of Oxford for about 40 mins, and then stopped in the middle of some fields.
We then carried on walking until we reached….
Wayland's Smithy
What is this thing? – you might ask…
Only the home of Wayland, Saxon god of metal working, which is odd 500 years older than Stonehenge!!!
Wayland Smithy's is a long barrow – ancient Neothilic chambered tomb; and in this one, remains of fourteen people were found – if you believe in ghosts, this might be a scary place! 🙂
Being an Outlander fan, I couldn't help but touch the stones – imagine if I was sent back 5,000 years ago, when this construction was a new-build?! 🙂
This is how it looks from the side – it's long, as the name suggests…
After all of this excitement we moved on to the next location, which was also as exciting – especially for a history geek like me. What else is in the area? (Clue: It's in Uffington)
The White Horse Hill
The hill is named after the famous White Horse – the oldest chalk-cut hill figure in Britain, perhaps over 3,000 years old – Brone Age (!) , and is 111m long (that's over sixty of me lol).
It's difficult to get an angle to take a good picture, so here is one for your reference from the world wide web: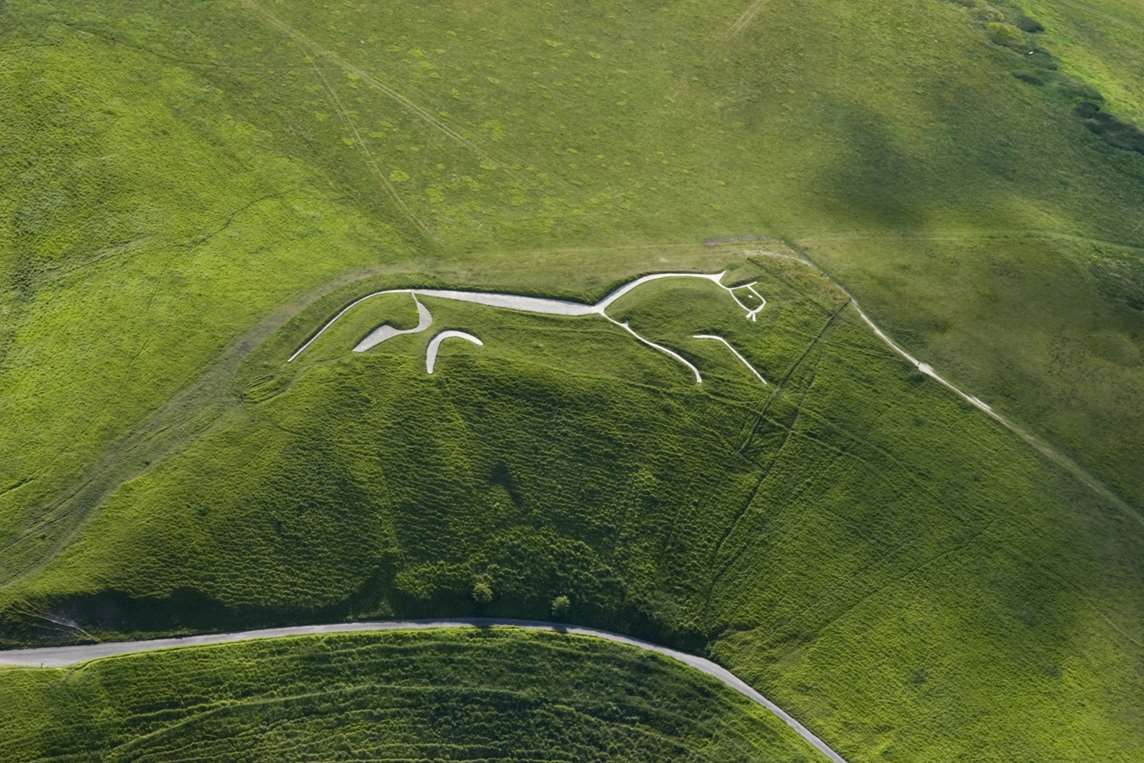 At the top of the hill, you will not only find a rare example of Iron Age hillfort (where the castle used to be), but will also be at the highest point in the entire of Oxfordshire. As I tried to take a picture, some vein sheep decided that it's their time to shine.
'Wait for me!!!'
'We're fabulous!'
Below the White Horse, there is another super cool place to visit – the Dragon Hill. It's right in the middle in the picture below, sticking out a little.
What's so special about this hill?
According to the legends, this is the hill where St George slayed the Dragon! The view is absolutely incredible, and I was a bit sad I didn't bring my sword with me.
These are all the pictures I've got, as I was filming instead, but have a glance of what it looked like and my crazy excitement in my latest video:
To summarise – you'd be silly not to go for such a wonderful walk if you're in the area – history lover or not – fully recommend!
Love,
Po x